. . . And now podcasting
Normally we write, but this time we recorded our story about the Majestic Theater. Listen on Soundcloud ›
A little history
To many, East St. Louis is synonymous with the likes of Detroit, Michigan, and Gary, Indiana. Often the butt of a joke, these midwestern blue-collar cities have reputations that precede themselves – to be avoided at all costs, as you speed by their exit ramps on the interstate.
Like all of these struggling, former industrial powerhouses of the Rust Belt, it must be told that East St. Louis is a city rich in history, art, music, and especially architecture. But above all else, a city filled with people: some brave, some lost, some determined to renew pride in their rich hometown.
With the help of some new friends, we recently ventured to one particularly beautiful building: the nearly 90-year-old Majestic Theater in the heart of downtown. We decided the tale of our exhilarating night in East St. Louis, and the history upon which it sits, was best suited for podcast…our very first. So we thank you, in advance, for taking the time to listen to a story of a city that begged to be told.
Images of the Majestic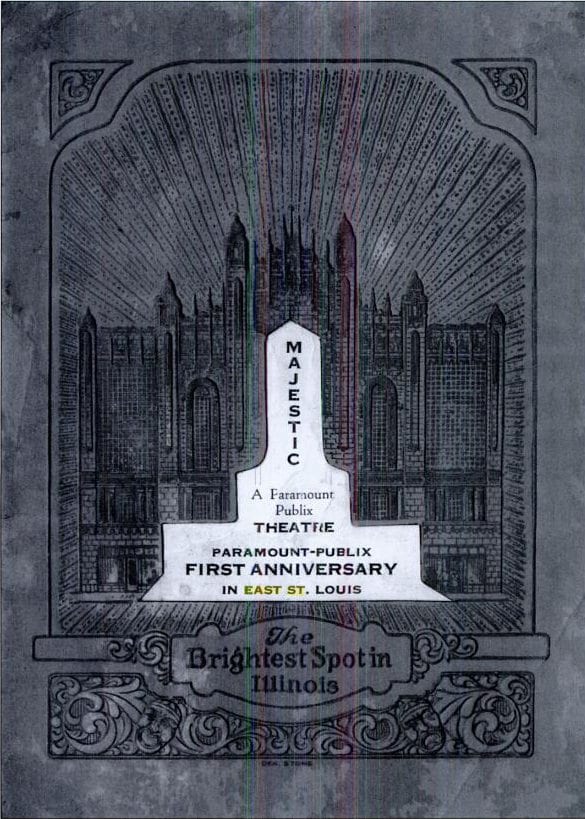 Sources and links
View many of the above photos of the Majestic Theater at Cinema Treasures….
One (of a handful) of 1917 New York Times' articles, mentioned in the podcast can be found here…
Read more about East St. Louis on the National Register of Historic Places (article by Stephanie Lecci from St. Louis Public Radio)
As mentioned in the podcast, you can (and should, because it's amazing) purchase an album (vinyl, cd, mp3) of the songs we played, just head over Numero Group: The Young Disciples (Eccentric Soul Series). "The World is Changing" LaVel Moore; "Crumbs from the Table" The Young Disciples Co.; "People" Ames Harris Desert Water Bag Co.; "That's a Good Reason" Sharen Clark & the Product of Time; "I'm Not Afraid of Love" Sharen Clark & the Product of Time; "Homeboy Pt. 1" Eddie Fisher & Allen "Dealth" Merry; "Girls Girls Girls" The Young Disciples Co.; "Choose Me" The Debonettes shop now ›
The podcast also featured "So What" by Miles Davis. Don't have Miles Davis Kind of Blue in your collection? You should definitely rectify that and purchase right away…
Learn more about the GSK IMPACT Grant for East St. Louis….
And if you do anything else today, above all else, please visit Charmaine Savage's Go Fund Me page for the I Am EStL magazine, which officially launched January 3rd! Learn More ›
---
We found it difficult to find photos and personal accounts of the Majestic theater in its glory days, so please don't hesitate to share your stories with us in the comments or by emailing us at ontheroad@theflashnites.com